Sebastian Art
Barbara Sebastian Studios
San Rafael, California
V. 415.519.5925
info@sebastianart.com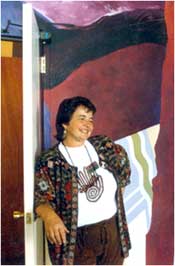 Barbara Sebastian

I was born in San Diego, California. After growing up in Southern California, I entered the University of California, Berkeley, in the 60's, majoring in Mathematics and Physical Education and always doing some kind of art. Upon graduating, I became a High School teacher for 9 years and coached girls gymnastics.
In 1975, I gave it all up to become a full-time artist working in clay. Finally, I returned to school to obtain my Masters degree at San Jose State University. In 1985, I received a master of Fine Arts degree in Plastic Arts (Sculpture).
Currently, my ceramic work is in collections throughout the United States, as well as in Europe and Asia. I create small ceramic jars, architectural scale clay wallworks, and painted abstract murals for interior corporate environments.
Although I continue to work in clay, as I love the tactile, earthy quality of clay, and the metaphor of "centering" associated with it, I have expanded my love of color into the form of abstract murals. I love the scale, the sense of being surrounded by color as I work, and the immediacy of the results.
In both my claywoks and my painted murals, I believe in beauty and spirit, and hope to touch each viewer in ways that expand their vision and fill their hearts as mine is on a daily basis.
I love to travel and soon will travel to Kyoto, Japan, on a journey to further expand my senses and appreciation of the beauty that surrounds us.
I am grateful, every day, that I am an artist.